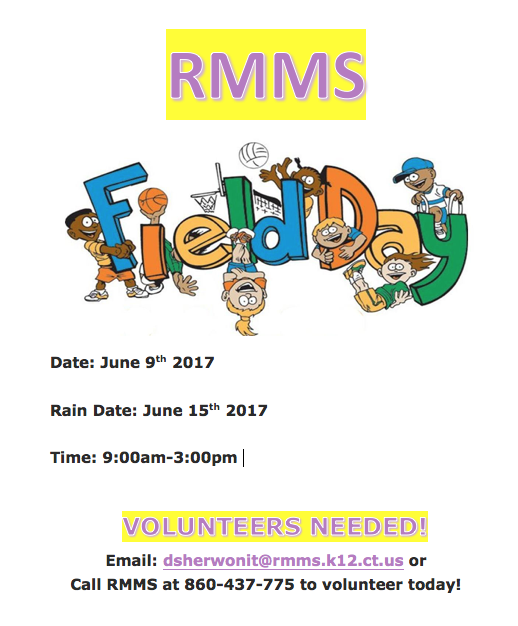 Field Day at RMMS is an all-day event with activities happening at Willams Park and at the school. The activities at the park are at the following times:
K/1: 9:00-10:30 2/3: 10:45-12:15 4/5: 12:45-2:30
We are seeking volunteers to help run activity stations (organizing students and explaining the given activity), serve lunch and clean up after the day's events. Please fill out this form and return it to Ms. Dana if you are available to volunteer. She will contact you with more details. If you have any questions please call Ms. Dana. Questions:Email: dsherwonit@rmms.k12.ct.us or Phone: 860-437-7775, ext. 7361.
Have a special talent or interested to share with the RMMS students
on Field Day?
Sign up on this form to volunteer. (Salsa, Zumba, Henna, face painting, crossfit for kids, yoga, Tai Chi and bootcamp are all welcome). These activities run throughout the day (9:00 AM-2:30 PM), sessions will be 15minutes with a 10-minutes transition time between.
Hope you can help!!
---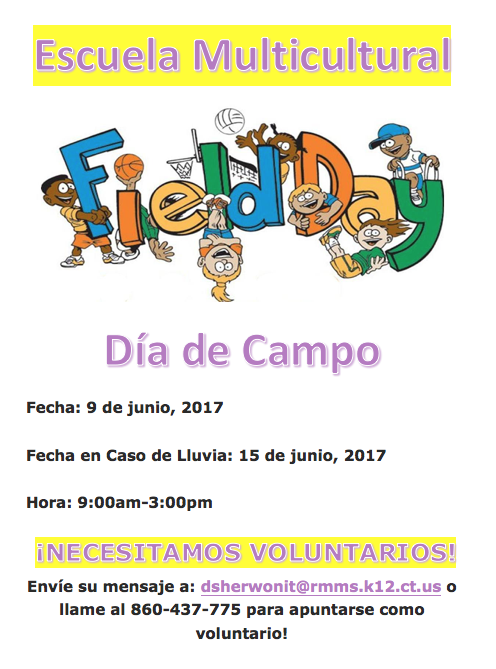 El Día de Campo de la Escuela Multicultural es un día complete de actividades que se llevan a cabo en Willams Park y en la escuela. Las actividades en se parque tiene el siguiente horario:
K/1: 9:00-10:30 2/3: 10:45-12:15 4/5: 12:45-2:30
Estamos buscando voluntarios para ayudar en las estaciones de las actividades (organizando a los estudiantes y explicando la actividad), sirviendo el almuerzo y ayudando con la limpieza al final del evento. Si usted está disponible para ayudar como voluntario, por favor llene este formulario y envíelo a Sra. Dana. ¿Tiene preguntas? envíele un mensaje a dsherwonit@rmms.k12.ct.us o llámela al 860-437-7775, ext. 7361
¿Tiene algún talento especial y está interesado en compartirlo con los estudiantes de nuestra escuela durante el Día de Campo?
Apúntese a través de este formulario. (Nos gustaría poder ofrecer: Salsa, Zumba, Henna, Pinta-caras, Crossfit para Niños, Yoga, Tai Chi y Campo de Entrenamiento). Estas actividades se realizan a través de todo el día (9:00am-2:30pm) y las sesiones serán de 15 minutos, con 10 minutos de transición entre cada una.
¡Esperamos nos pueda ayudar!