The Alumni Slideshow is a collection of responses from students who attended RMMS. They share their memories while attending the school, the impact it had on their lives, and what they are doing now.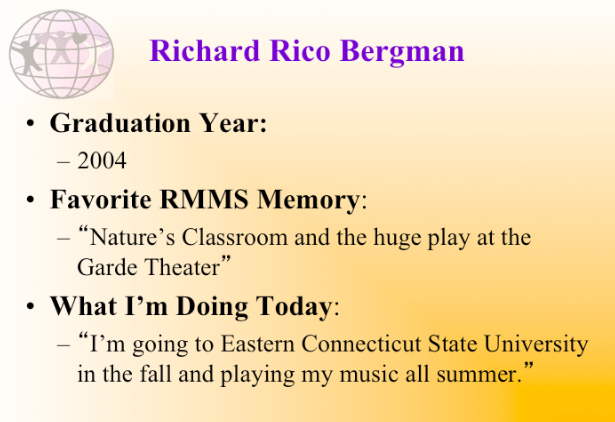 In June of 2011, RMMS celebrated its 20th anniversary. As part of the activities, on a beautiful, sunny Saturday, students, parents, alumni, the community, as well as past and present staff, were welcomed to a Multicultural Festival. Everyone enjoyed food by GO FISH, crafts, presentations, live music, speeches, exhibits, face painting and socializing. The Multicultural Festival mascot, "Wild Thing" reigned over the wonderful day.
Sunday, the day following the Multicultural Festival, the 20th anniversary of RMMS continued and was designated as Magnetpalooza Day! The first-ever music festival was held outdoors at the Hygenic Arts building in downtown New London. Local musicians provided entertainment as palooza-goers munched on pizza, danced and rocked to the beat. Proceeds were donated to the RMMS Foundation.